The APALRC is proud to join the American Immigration Lawyers Associate (AILA)'s 12th Annual Citizenship Day event on Saturday, September 15, 2018.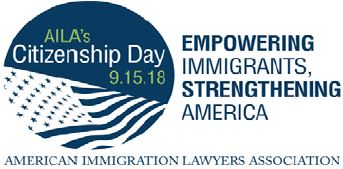 Citizenship Day is a single-day nationwide event hosted by AILA chapters across the country and their local grassroots partners. Each year, Citizenship Day helps thousands of eligible legal permanent residents to prepare and apply for U.S. naturalization.  AILA Citizenship Day – DMV Locations
The APALRC legal team and trained volunteers will assist participants with completing their naturalization applications (Form N-400) Saturday, September 15th  from 10:00-2:00 at George Mason Regional Library, 7001 Little River Turnpike, Annandale, VA 22003.
There is no charge for assistance available through the workshop, which is open to all. For additional information, please call the APALRC at (202) 393-3572 or register online via this link.
https://goo.gl/forms/4b3fW2ZMu1s9hukM2
Assistance will be available in Chinese, Korean, Vietnamese, Spanish and English. Please call to register in advance to ensure an interpreter will be available in your language.
For more information about becoming a citizen, please visit:  https://www.apalrc.org/citizenship-guide