COVID-19 Webinar Series: COVID-19 and Immigration
April 2 @ 12:00 pm

-

1:00 pm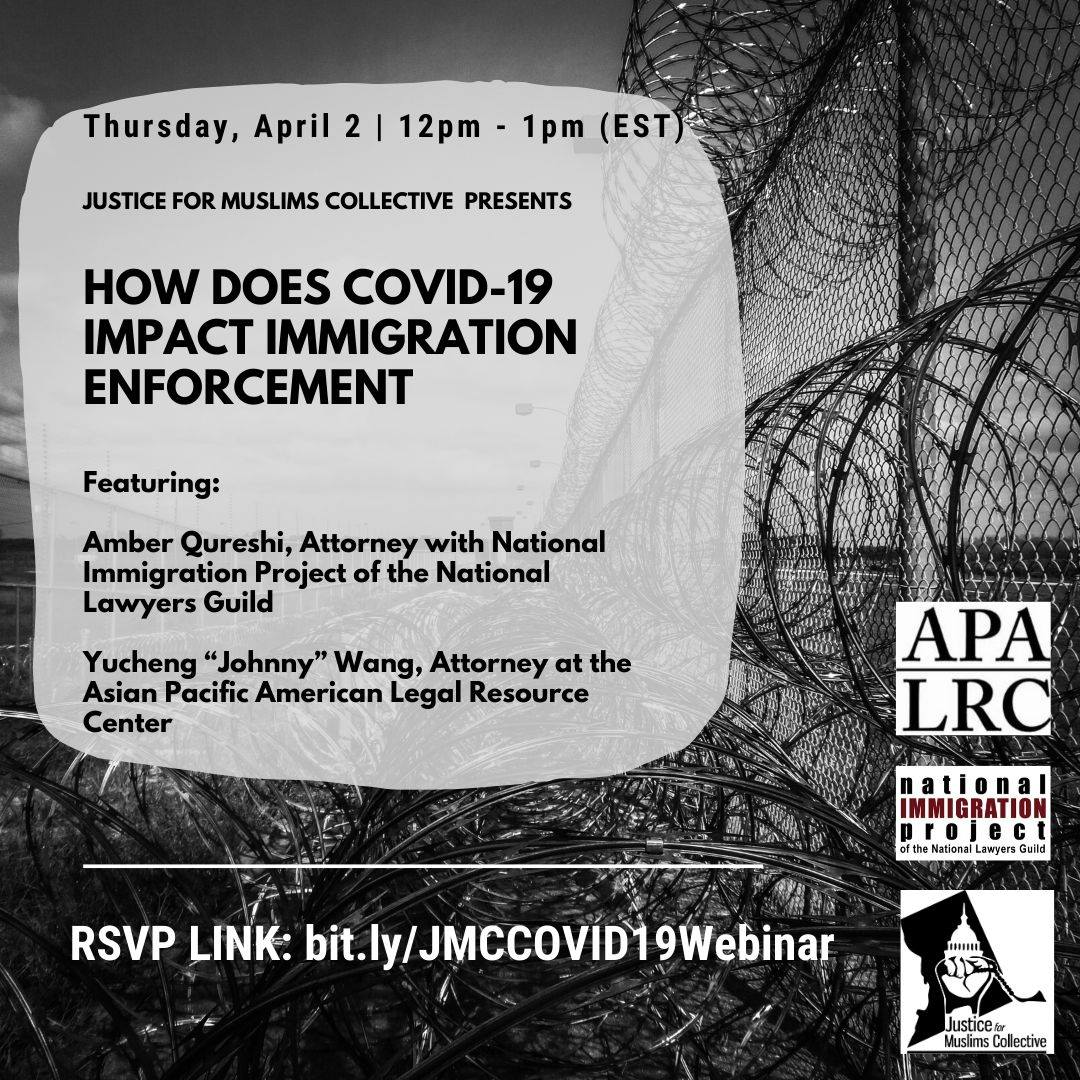 Description: Justice For Muslims Collective will hold a series of webinars in light of COVID-19 to keep our community members informed of their rights and share critical resources. The first webinar will focus on the impact of COVID-19 on immigrant communities and enforcement with a particular focus on Arab, Middle Eastern, Muslim and South Asian communities
Immigrant communities will face significant challenges because of COVID-19.  This includes enforcement, detention of asylum seekers and migrants, an increase in racism and hate violence, the suspension of immigration benefits processing, and financial losses given the high number of immigrants who are on the frontlines of responding to the pandemic. Unfortunately, the $2 trillion COVID-19 relief fund leaves out the most marginalized immigrant communities from accessing economic aid, testing, and access to healthcare.
We will be joined by Amber Qureshi and Yucheng "Johnny" Wang who will discuss immigration enforcement on this webinar.
Amber Qureshi is an attorney at the National Immigration Project of the National Lawyers Guild (NIPNLG). At NIPNLG, Amber works on immigration enforcement issues, particularly those that impact low-income Arab, Middle Eastern, Muslim and South Asian communities. Amber holds a J.D. from Yale Law School, a B.A. from the University of Maryland College Park and a M.Ed. from Johns Hopkins University.
Yucheng "Johnny" Wang is a staff attorney at the Asian Pacific American Legal Resource Center. Johnny graduated from the George Mason University School of Law with a Juris Doctor degree under the immigration concentration in 2018. During law school, Johnny worked at many immigration nonprofits and law firms. Johnny is an immigrant himself and speaks fluent Mandarin Chinese and Taiwanese. Johnny is a proud member of the LGBT+ community. Johnny is licensed to practice law in the Commonwealth of Virginia.