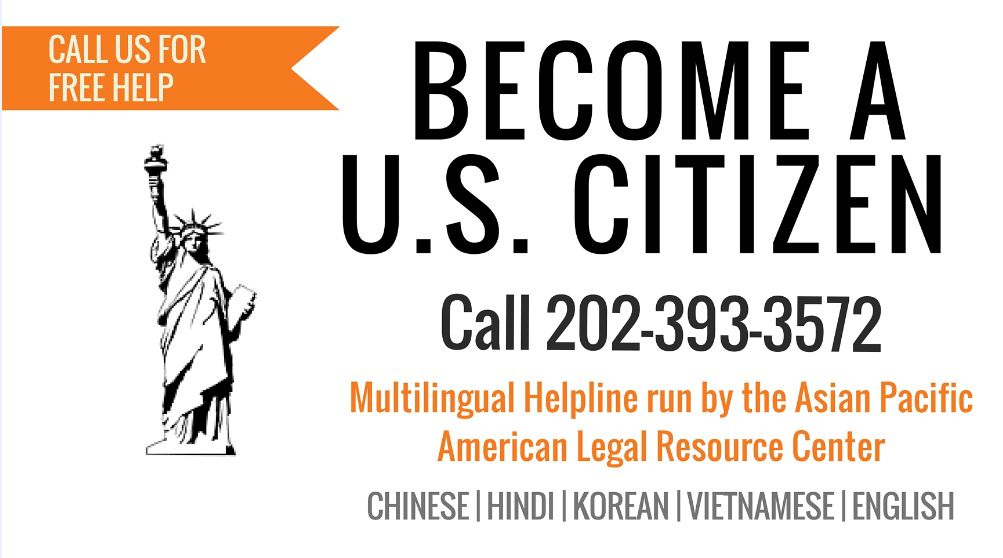 Free Citizenship Application Assistance Workshop on Saturday, February 9, 2019 from 10:00 am – 2:00 pm at the Rockville Memorial Library, 21 Maryland Avenue, Rockville, MD 20850.
The APALRC legal team and trained volunteers will assist participants with completing their naturalization applications (Form N-400). There is no charge for assistance available through the workshop, which is open to all. For additional information, please call the APALRC at (202) 706-7135 or register online via this link.
Interpretation and translation assistance is available.  Please call to register in advance to ensure an interpreter will be available in your language.
Upcoming Workshops:
March 2, 2019 from 2:00 pm – 5:00 pm at the Woodrow Wilson Library, 6101 Knollwood Drive, Falls Church, VA 22041
March 23, 2019 from 10:30 am – 2:30 pm at the Gaithersburg Library, 18330 Montgomery Village Avenue, Gaithersburg, MD 20879
April 27, 2019 from 10:00 am – 2:00 pm at the Rockville Memorial Library, 21 Maryland Avenue, Rockville, MD 20850
June 15, 2019 from 10:00 am – 2:00 pm at the Rockville Memorial Library, 21 Maryland Avenue, Rockville, MD 20850